On this Post, you'll find all the information about Morocco TGV AL BORAQ, TGV schedules and prices and how to book Morocco TGV high speed train tickets online.
History of Morocco "LGV"(Ligne Grand vitesse) & "TGV" Morocco's high speed train
Firstly, in 2007, signature of the first Memorandum of Understanding .
Secondly, 2010 is the year of signing of the final contract of the project.
in the same year 2010, Order of the trains December 10, 2010 to the supplier Alstom.
After a year, in pre-project studies and validation of the final route, the 29/09/2011 kick-off of infrastructure works.
After that, in 2017: End of work and test.
2018 is commissioning: journey time Tangier-Casablanca 2h10.
Moreover, in the next two years (2019): construction of the second section Kenitra-Casablanca: the journey time Tangier-Casablanca passes at 1:30.
The launch of the First Moroccan TGV 
On November 15, 2018,Morocco becomes the first African country operate The high speed-train TVG. It's one of Morocco's big investments. 200 km high-speed rail "LGV" has been built with a budget of two billion Dollars. The Moroccan TGV called "AL Boraq". The national railway ONCF received 14 high speed trains manufactured by Alstom. Each train is cable to carry up to 533 passengers.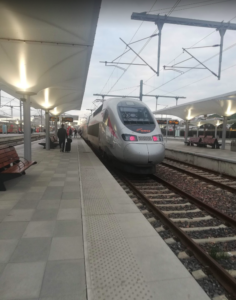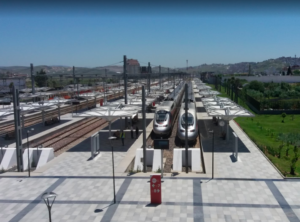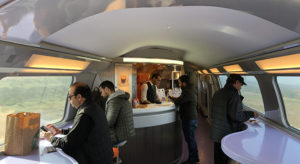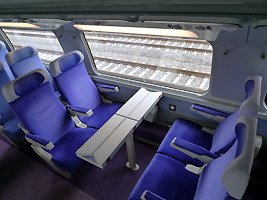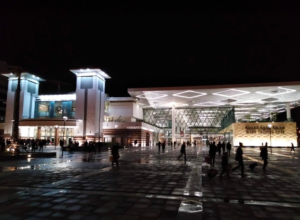 Inside "AL Boraq" (Morocco High-speed train):
Service:
The service on "Al Boraq" (TGV) is fantastic. There is a man in front of each door of the TGV to help the passengers to get on the train and find there compartment and seats. The TGV controllers and security are gender balanced between men and women.
TGV luggage and seats
For big luggage, there are big spaces  especially at the entrance of each compartment. If you don't like to leave your luggage near the door, there are other empty spaces in the Middle of "AL Boraq".
On the Moroccan high speed train there are over 533 seats ,121 of them are 1st class seats and the other 412 are second class.
TGV travel tips:
If you want charge your phone on the TGV, there is an electric outlet under the table in front of your seat.
The TGV is secured and it's impossible to get on the train without your tickets. Click here to Order your Tickets
"Al Boraq" contains the air conditioning if you are traveling in Morocco during the summer. Also, there are lights with a button on top of your head if you want to switch it on at night for example if you love reading books while travelling.
In addition, the tables on The TGV are really nice, you can open your table if you want to eat or work on your laptop during the journey Marrakech- Tangier.
There are two kinds of seats in the TGV: Family seats , 2 in front of 2 and a table between them. The second kind is like the normal trains two by two.
After that, TGV's toilets are clean and comfortable, there is an outlet to charge your phone if you plan to stay a little long in the toilet.
Is There Food on the TGV?
In each TGV compartment, there is a  screen that  shows. The journey distance, time, date, temperature, the next stations where the high speed train is going to stop. (Kenitra, Rabat Agadal and Casa Voyageurs). In addition to that, it shows the speed which is the reason you take Morocco TGV "AL Boraq". The screen Also says "a cafeteria at your disposal by compartement number 4.
Above all, the food on the TGV isn't that expensive. A refreshment menu in the cafeteria serving croissants, juice, sodas, sandwiches, pastries, chips…etc. You can have a cup of coffee with only 9 Dirhams (1$) even if it's on the train. The TGV's cafeteria is on the first floor .
High-speed train tickets – Morocco TGV AL BORAQ
Once I was on the TGV and I heard a child crying , when his mom asked him why? He said: why there is no internet connection on the train which is Negative point of Morocco TGV. She told him if he keeps crying she is going to call the TGV controller. To come and take him away. Now I realized why Moroccans are always afraid of Morocco bus and train controllers.
Book & buy your Morocco TGV AL BORAQ tickets in advance
In conclusion, Morocco TGV you'll save time, money and avoid traffic and road problems. Travel fast and comfortably.
Buying TGV train tickets for travel in Morocco : you can book Morocco high speed train tickets for travel between Casablanca-Rabat-Kenitra-Tangier only if you have a Moroccan bank account via ONCF website.If you don't here is the solution to guarantee your first class seats on the TGV.
Certainly, just fill in MYticket booking form with your travel details and receive your E-ticket. With MYticket you can also buy Morocco bus and train tickets online (e-tickets) for travel to any destination in Morocco up to 90 days in advance. Don't hesitate to Contact us and get Morocco travel tips, trains and bus schedules with prices, plan all your trips in Morocco with us. Also, book your bus and train in advance and we'll answer all of your questions about Morocco. To clarify, all these benefits come with a small fee. For inquiries please contact us via email: contact@myticketservices.com or via what'sapp: +212608401475 , we'll be pleased to help you, book your tickets and answer all of your question.
MOROCCO_ADVISOR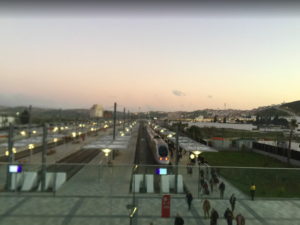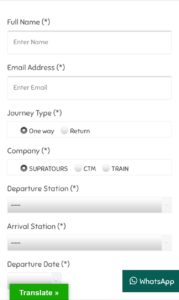 Morocco TGV AL BORAQ Train prices and Schedules
At the moment, Morocco TGV only operated between Casablanca and tangier city. Al Boraq (TGV) is conecting the biggest economic cities in Morocco and reduce the journey. Time to 2h30min, passing by Rabat and kenitra.