CTM MOROCCO BUS TICKETS
If you are one of the people who prefer travelling by bus instead of train , CTM has a large offer that covers most of the cities in Morocco and that is guaranteed to meet your expectations in comfort and punctuality.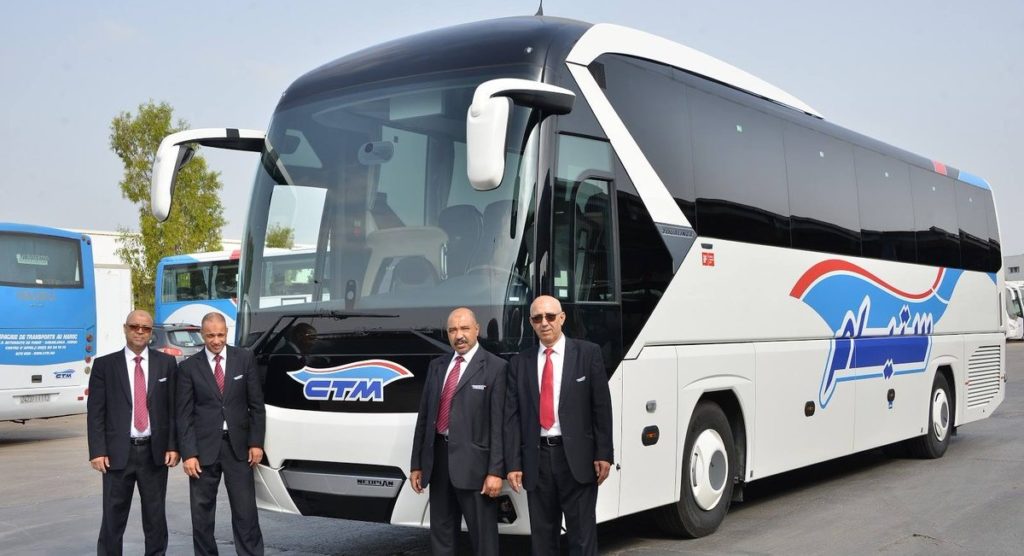 Location of Marrakech CTM Station on Google Maps
Marrakech CTM Bus Station
Location of CTM Bus station Marrakech/ CTM Morocco bus tickets
Firstly the station is located in the new part of the city ,exactly called Gueliz, which is the center of Marrakech city .
Secondly  the CTM bus station is near Marrakech Train Station and Supratours Bus Station.
Moreover the distance isn't far you can just walk, will only take you few minutes
But in a hot day in the summer or if you have a lot of luggage it's better to get a Taxi for the short journey.
Also Gueliz is considered a central location in Marrakech and it's not far from a Marrakech Medina.
CTM website/ CTM Morocco bus tickets
CTM Bus company website mentions that it is possible to buy online tickets for CTM Buses to travel around Morocco via the website.
The website has the buttons to change to the English version
However, we've never heard of a tourist who has actually successfully done this with a foreign card. Because only possible if you have a Moroccan bank account. Most importantly MYticket offers a friendly service of advance purchase  the CTM bus tickets on behalf of our customers and deliver it to your accommodation (hotel, riad, guesthouse, Arbnb….)
Travel with CTM company/ CTM Morocco bus tickets
The CTM Buses which arrive or depart from CTM Bus Station Marrakech can take you to (and from) many other big and small cities in Morocco.
In addition the CTM buses often stop 15 minute or 20 for a break halfway on most routes, stopping at roadside restaurants and cafes that's offer good foods and drinks.
CTM is it national or international?
CTM Bus company is operating national routes, across Morocco to the north, south, east and west. Also they have international routes to Spain available via their franchise arrangement with Eurolines.
CTM bus Prices
| Trip | Price | Observation |
| --- | --- | --- |
| Marrakech-Essaouira | 80 dhs | No Confort plus |
| Marrakech-Agadir | 115 dhs | Confort plus :120 dhs |
| Marrakech-FES | 185 dhs | Confort plus :200dhs |
| Marrakech-Tangier | 230 Dhs | Confort plus:245 |
| Marrakech-Ouarzazat | 90 dhs | No confort plus |
| Marrakech-Casablanca | 95 dhs | Confort plus :100 dhs |
| Marrakech-Rabat | 140 dhs | Confort plus:155 Dhs |
| Casablanca-Chefchaouen | 170 dhs | Confort plus :170 dhs |
| Fes-Chefchaouen | 75 dhs | No Confort plus |
| Rabat-Chefchaouen | 115 dhs | Confort plus :120 dhs |
| Marrakech-Zagora | 160 dhs | Confort plus :160 DHS |
Travel from and to Chefchaouen city, Morocco
"CTM Morocco bus tickets"
There are easy ways to travel to and from Chefchaouen, the best and easy way by using CTM bus service. Always there are daily buses to and from Chefchaouen city.
These are some of bus routes from and to Chefchaouen:
Chefchaouen – Casablanca
Fes – Chefchaouen
Meknes – Chefchaouen
Tangier – Chefchaouen
MYticket can purchase CTM bus tickets for travel from and to Chefchaouen or to any other destination in Morocco. Just fill in MYticket booking form with your preferred travel details or contact us via Email: contact@myticketservices.com or WhatsApp: +212608401475.
For travel from Fes and Meknes CTM bus takes about 4hours to arrive to Chefchaouen, and the costs are around 75 Dirhams. To get to Casablanca there is only one bus per day leave from Chefchaouen at 07h00 and arrive to Casablanca at 13h00( 6 hours ) and will cost you around 165 Moroccan dirhams.
Chefchaouen to Fes timetable and prices
Departure
(CHEFCHAOUEN)
Arrival
(FES)
Price
Observation
10h45min
15h30min
75 Dirhams
Confort
13h15min
17h30min
75 Dirhams
Confort
14h45min
19h30min
75 Dirhams
Confort
18h10min
22h30min
75 Dirhams
Fes to Chefchaouen timetable and prices
Departure
(FES)
Arrival
(CHEFCHAOUEN)
Price
Observation
08h00min
11h40min
63 Dirhams
Confort
09h30min
14h15min
63 Dirhams
Confort
11h00min
15h15min
63 Dirhams
Confort
12h00min
16h05min
63 Dirhams
Confort
14h00min
18h00min
63 Dirhams
Confort
16h15min
20h45min
63 Dirhams
Confort
23h45min
03h50
(next day)
63 Dirhams
Confort
CTM Bus routes from Marrakech/ CTM Morocco bus tickets
For example:
Murrakoch to Rabat
Marrakch to Kenitra
Kech to Fes
RAK to Meknes
Merakech to Ouarzazate
Marakech to Zagora
Murakeich to Risani
Mrakuuch to Erfoud
Marrakich to Errachidia
Marrakech to Taroudant
Marra.kech to Tiznit
Marr-akech to Laayoune