What is ONCF?
ONLINE MOROCCO TRAIN TICKETS:
The Moroccan National Railways Office "ONCF" is a Public Establishment. with an industrial and commercial character (EPIC) with financial autonomy. Its mission is to ensure the rail transport of passengers and goods in the best conditions of safety, comfort, regularity. Also sustainable development.Rail transport in Morocco is an inexpensive and efficient way to get around. Although train travel is available only north of Marrakech, to Casablanca, Rabat, Fes, Meknes and Tangier. But ,to travel south of Marrakech to the mountains and Sahara desert. Or west to the coast, it's necessary to use the SUPRATOURS or CTM bus service.
Booking Your Online Morocco Train Tickets.
You can not purchase a train ticket outside of Morocco from Oncf website. unless if you have a Moroccan bank account. Once you arrive, however, you can  go to the train station in the city and you can make reservations and purchase your tickets to any destination in the country. There are always trains run often, but it's better to purchase your tickets in advance.
To save time and money, MYtiket will purchase the tickets on behalf of you up to 3 months in advance. Just send us your travel details via our Booking form, or contact us on what'sapp (+212608401475).
If you want to travel from Tangier to Marrakech and you want to take the overnight train you will just have to hope the couchettes are not fully booked. If they aren't MYticket will book them for you or single couchette. However If you prefer to be alone in a compartment. On the other hand If you don't want to take the overnight train from Marrakech to tangiers, we can book you high-speed train(BORAQ) tickets. So you'll have to change the train at Casa voyageurs station. Because the high speed is only from Casablanca to Tangier and stops in some cities like Kenitra and Rabat.
How much the train tickets in Morocco Cost?/ Online Morocco Train Tickets
Train tickets Prices are very reasonable in Morocco.
MYticket take payment via paypal (tickets+ service fee) .
Children under the age of 4 travel free.
Children between 4 and 12 qualify for reduced fares.
| TRIP | FIRST CLASS | SECOND CLASS |
| --- | --- | --- |
| Fes - Tanger | 224DHS | 168 DHS |
| Marrakech - fes | 290 DHS | 195 DHS |
| Marrakech - tanger | 299DHS - 449DHS | 238 - 297 DHS |
| Tanger - Casablanca | 195 - 149 DHS | 149 DHS |
| | | |
| Marrakech -Casablanca | 150DHS | 110DHS |
| Marrakech - Rabat | 197 DHS | 138 DHS |
| Casablanca - Fes | 165 DHS | 115 DHS |
| | | |
| Rabat - Fes | 120 DHS | 85 DHS |
Aeroport MED V (CMN)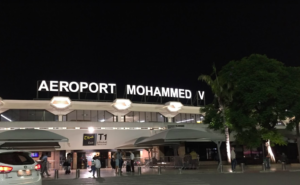 Getting to and From the International Airport MED V
If you're arriving at the International airport in Casablanca there is train will take you directly to the main train station in the city center which called "casavoyageurs". From there you can travel to Fes, Marrakech or wherever you'd like to head to. Trains also run directly from the airport to Rabat.
If you're in Tangier, Marrakech, Fes or any other city which has a train station take a cab (petit taxi is always the cheapest option). and ask the driver to take you to "la gare". When you arrive at your destination, try and have an address of a hotel ready before you hop into a cab.
If you are in a town like Essaouira or Agadir a Supratours bus will link you directly to the Marrakech train station. Supratours is a bus company that is owned by the railway company ONCF, anyway you still can book and pay for a combination of bus and train ticket in our website via our Booking Form or via Email: contact@myticketservices.com/WhatsApp:+212608401475.
If you want to travel to the following destinations: Tan Tan, Ouarzazate, Zagora, Essaouira , Agadir, Tiznit, Tetouan, and Nador which not reached by the train, the only and best way is via Supratours bus.
Train Schedule for Travel to and From Marrakesh, Morocco
The imperial city of Marrakesh is one of Morocco's most popular destinations. It's also a beautiful city explore the rest of the country, not just because of its excellent railway connections. From Marrakesh train station you can easily travel to other major cities. For example Casablanca,Rabat, Fez, Tangier and Meknes. As well as being amazingly efficient, Morocco's trains are considered clean and safe. Tickets are well-priced, too, making this one of the most budget-conscious methods of getting around.
ONCF logo

Travel in Morocco by train.
To Travel in Morocco ,the train is the most efficient ,not expensive and comfortable way to get around. The train network in Morocco is not very extensive.Trains goes to the north of Marrakech, but many of the major tourist destinations are covered. Trains goes from and to Marrakech, Fes, Casablanca (including the International Airport), Rabat, Oujda, Tangier, and Meknes. If you want to travel to the desert(Merzouga,Zagora..), Atlas Mountains, Agadir, or Essaouira on the coast, you'll have to use the bus services, Supratours or CTM.
Is it possible to get Food on Morocco Train?
A simple diverse menu, so you can order drinks, sandwiches, and snacks on the train. If you're traveling during Ramadan however, bring your own supply of food. Don't get stuck on the 7-hour train ride between Marrakech and Fes with just half a bottle of water and no food and no snack cart to be found. To clarify that the trains really don't stop at the stations long enough to nip out and buy something.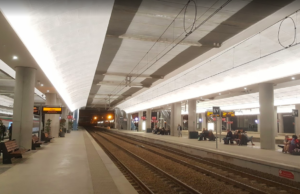 First Class Morocco train tickets or Second class ?
Morocco trains are divided into compartments, if you are in first class you'll be 6 people in the same compartment. If you are in the second class you'll find 8 people per compartment. With MYticket we often book first class to our customers so they can get an actual seat reservation, which is nice if you want a window seat since the landscape is wonderful. Otherwise, it's first-come-first-serves. But the trains are rarely full so no worries you'll always be quite comfortable. The price difference  between first and second class is usually no more than 150 MAD.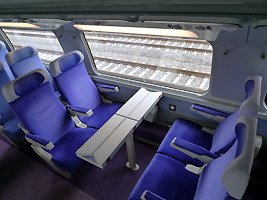 Morocco Train Schedules./ Online Morocco Train Tickets
There is no difference If your are French or English, here is some of Morocco train schedules.
BOOK ONLINE MOROCCO TRAIN TICKETS HERE
How Long the Train Rides Are?
Note : For more cities and more schedule You can check "horaires" on the ONCF website.But here are some sample journey times.
From Marrakech to Casablanca—3 hours
From Marrakech to Rabat—4 hours
From Marrakech, to Fes—7 hours
From Marrakech- to Meknes—6 hours
From Tangier to Marrakech—11 hours (direct overnight)
From Tangier. to Fes—5 hours
From Casablanca. to Fes—4 hours
From Casablanca, to Oujda—10 hours
From the International Airport (MED V) to Casablanca Center—40 mins
In the last past years, it wasn't possible to purchase Moroccan train tickets online in advance. Only if you go in person to the train station in the city of departure and purchase your train tickets. Now, however, with MYtiket you can plan your trip in one click ,by researching and paying for tickets on our website: www.myticketservices.com and for more schedules check the website of the national railway operator, ONCF. If you wait until arrive to Morocco, first class train tickets may be sold out . Buying tickets on the day of departure may create a problem for a tourist who wants to enjoy his vacation.
If you are planing to travel in Morocco during peak times (including public holidays and particularly Ramadan), it's a good idea to book in advance. If you have problems booking online Morocco train tickets, you can make a reservation in MYticket booking form and we'll purchase your  bus or train tickets in advance to guarantee your first class seats to any Moroccan destination up to 3 months in advance.
ONLINE MOROCCO TRAIN SCHEDULES AND PRICES
Please click on the links below to check the schedules & prices of your preferred destination