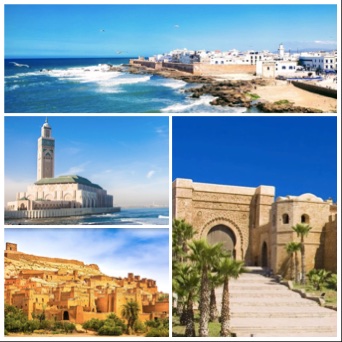 Morocco train and bus travel
Morocco train and bus travel.
Morocco is one of the best touristy countries in 2019. There are four imperial cities in Morocco: Marrakech, Fes, Meknes and Rabat.
Firstly, Marrakech is famous for its beautiful old medina. Also it's called the red city. In addition famous for old palaces like "Badii" and "Bahia" palaces, the highest "Koutoubia" mosque, the place full of energy "Jamaa El Fena" And "saadien tombs", also we should mention the busy souks.
Secondly, Rabat is currently the national capital of The kingdom of Morocco. Now becomes a modern city in the first place. But still have some historical attractions such as "Hassan tower", "Kasbah of Oudayas" and the old Medina.
Moreover, Fes is a mixed of 8th, 13th and 20th century. It knowns as the old scientific city. It's has one of the oldest universities in the world and the largest The medieval "Chouara" Tannery.
Meknes was the capital of Morocco in 17th century. Meknes has many beautiful architectural and historical monuments such as "Place Hedim", prison of "Habs Qara", "volubulis" …
Beaches, Essaouira, Agadir
Because of its location strategy, Morocco has beaches along both the Mediterranean Sea and the Atlantic Ocean. During the summer months, national and international tourists attracted by the lovely beaches of Agadir, Tangier, Oualidia, Asilah….
If you are a fun of water sports like surfing, Essaouira is the best beach destination.
Not only the imperial cities and beaches. Morocco's Atlas Mountains has options for people with different experiences. Atlas Mountains has 3 separate ranges: The High, the Middle and the Anti Atlas for hiking lovers, mountain biking and outdoor adventures. Chefchaouen known as the blue city has the Rif mountains in the north of Morocco, they are similar to Atlas Mountains which is the highest mountain in Morocco.
Ouarzazate reffered to the doorway to the Sahara desert. A lot of Hollywood movies were filmed there such as The gladiator, The mummy and Game of thrones. Merzouga, Erg Chebbi, Chegaga, and Zagora are the best places to experience the Moroccan Sahara .
If you are one of those people who think that traveling in Morocco is difficult, expensive and dangerous, I'm here to tell you politely that you were wrong.
Morocco isn't like Europe which is all covered by the train. But you can get the train to the major cities, Marrakech, Casablanca, Fes, Tangier, Meknes, and Rabat. Although to travel to the city you should use Morocco bus service. For tourist we always recommend Morocco Supratours bus & Morocco CTM bus.
Morocco railway network or ONCF (Office national des chemins de fer) is the one of the best Train companies in Africa. ONCF recently launched the fastest high speed train "AL Boraq" in Africa. Prices aren't expensive, trains are clean and comfortable.
Marrakech its last station going to the south. The Marrakech train station is located the centre of Marrakech, it's close to the Supratours station which is a part of Morocco train ONCF, also in the same area of CTM bus station.
Advance booking and purchase of Morocco rail tickets is possible on the platform of ONCF which is written in French. But you still can understand even you aren't French. You'll still chose between first class and second class seats. But the problem is that you can't buy your tickets unless you have a Moroccan bank account. Most of the time we Book first class to our customers.
Morocco Supratours company is operated by ONCF Morocco train company. You can buy combined train and bus tickets on the website. For example if you want go from the north further to the south or to the cost Essaouira and Agadir as an example.
To the desert ,Merzouga and Zagora Supratours has comfort buses depart every day  from Marrakech.
If you have a Moroccan bank account it's possible to purchase Supratours bus tickets up to 90 days in advance. MYticket provide the service of buying and purchase Morocco bus and train ticket to people who doesn't have a Moroccan bank account. We'll then book the bus or train tickets on behalf of you and send them to you by Email (E-ticket). To guarantee first class seats with the best offers.
CTM bus company is one of the biggest and first bus companies in Morocco. It covers most of Moroccan cities and has logic prices. There are CTM routes that none of train and Supratours goes to. For Example, travel from Fes to Chefchaouen you'll necessary use CTM bus service.
CTM website is also in French. Also, you can buy your tickets via their website but only if you have a Moroccan bank account. Generally traveling with CTM bus company is comfortable with air-conditioning on most routes and Wi-Fi service on Premium buses.