Marrakech, Morocco
"travel to and from Marrakech"
Marrakech is one of the best destination around the world, especially if you are planning to visit Morocco soon. Also it's the best place start to discover the rest of the country. The imperial Marrakech is famous of it's fabulous Riads (Guesthouses) and hotels. Also the old palaces such us Bahia Palace and Badii Palace. Also people from difrrent cultures come to the red city to discover the big square Jemaa EL Fna. In addition, the magic Souks (the markets) are busy and will take you in another world.
Marrakech has some historical monuments (Saadian Tombs) and beautiful gardens(Majorelle garden, secret garden and anima garden). Also museums, Dar Si said museum, maison de la photography.
Marrakech looks like the centre of Morocco, you can travel to other major cities and areas. Tourists chose it to start their adventure to the desert Merzouga and Zagora. Or traveling to the cost Essaouira and Agadir. To the north Tangier, the blue pearl Chefchaouen. Also the east, Fes and Meknes.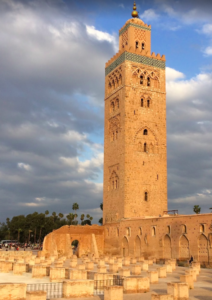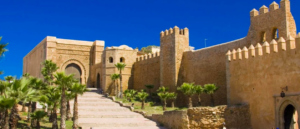 Where is the Marrakech train station
Marrakech train Station
There is only one train station in Marrakech. Marrakech train station is located in the city centre GUELIZ (Avenue ) . Opposite of "Theatre royal". The station is next of IBIS HOTEL (Gare). On the same line you'll find Marrakech Supratours bus station which also operated by Morocco rail ONCF.
The ONCF renovated this station in 2008 to become one of the best and busy stations in Morocco. You can travel by Morocco train from Marrakech to Casablanca, Fes, Meknes, Rabat, Tangier and other major cities in the noth.
Marrakech train station is the last station to the south for Morocco rail. So if you would like to travel to the  desert(Zagora, Merzouga) , south( Dakhla, Laayoune) and coast (Essaouira, Agadir) . You'll need either to take the bus with CTM or Supratours ( ONCF).
Travel to and from Marrakech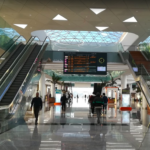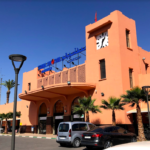 Travel by CTM Morocco bus:(Travel to and from Marrakech)
Marrakech _ Casablanca CTM bus Timetable and prices
Fes – Chefchaouen CTM bus Timetable and prices
Chefchaouen – Tangier CTM bus schedule and prices
Agadir – Essaouira CTM bus Schedule and Prices
Essaouira –  Marrakech CTM bus timetable and prices
Fez – Marrakech CTM bus schedule and Prices