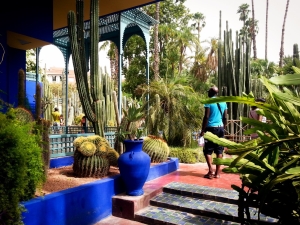 Majorelle & YSL Museum paradise, exoticism in Morocco
An exotic garden
You have just eaten, the sun is at its zenith, it is very hot, the noise, the exhaust pipes, the many calls to invite you to buy a carpet or a tagine seem to have finished you.
Of course you are on vacation and you love this change of scenery. Obviously the accents and the turn of the phrase make you smile, your hair smells of cumin and fresh mint, and you wear your prettiest djellaba sewn with silver thread.
Yes, but is that a little too much?
Ah! so look no further, I have the solution for these short moments of fed up: a little paradise in the heart of Marrakech, the exotic Majorelle garden.
You will immerse yourself in a zen and fresh, green and blue universe. In surprising and saving contrast with the souks. Cut off from the hustle and bustle of the city and yet 2 steps from the center, the Majorelle garden is a very pretty discovery not to be missed.

The Moorish exoticism is punctuated by a multitude of varieties of cacti and plants from around the world. There are huge coconut palms. The pools and small canals intersect and disperse between bougainvillea and bamboo.
Shaded alleys where you reconcile with the mild Moroccan climate. Passionate about Botany, in love with nature and small birds? you will be satisfied. Just a need for serenity? there is good too!
Renowned French artists in Marrakech
   • When French painter and stylist become landscapers:
Jacques Majorelle
For the record, it was Jacques Majorelle, a French painter, who, in 1923, bought this land very close to the Palmeraie of Marrakech and had his house built there in a Moorish and even Berber style in places. He was immersed in Art Nouveau from an early age, and, between a cabinetmaker father and architectural studies, Decorative Art smiled at him. The cubist style is also very present in this place, represented mainly by its blue workshop. The low walls and flower pots covered with primary colors complete the picture.
Jacques Majorelle had no idea that his blue would be a registered trademark "Majorelle blue", just like Klein blue. That said, it is not snobbery because this tone, a sort of mauve or even bright cobalt overseas, whose intensity brings out the hues of the plants, immerses you in a modern and yet harmonious atmosphere, the vegetation is thus poetically highlighted.
"We were seduced by this oasis where the colors of Matisse blend with those of nature. "
The garden is abandoned after the painter's death and even intended to be razed. In 1980, YSL, satiated with success, has a great need to return to the sources. Born in Algeria, nostalgia pushes him to travel often to Africa where he draws his inspiration. He then discovered this garden which he acquired with his companion Pierre Bergé. Thanks to their artistic sense, they restore and refine this site and make it one of the most visited in Marrakech today.
   • Nowadays, the exotic garden: Majorelle & YSL Museum
Died on June 1, 2008 in Paris, the ashes of Yves St Laurent were scattered in the rose garden of the villa Oasis and a memorial was built to remember.
Now there is also a small museum of Islamic Art (carpets, ceramics and Berber jewelry and some works by the artist).
And you can have a drink, a coffee, sit down (there is even a refreshment bar yes). A paradise I tell you!
Practical information Jardin Majorelle : Majorelle & YSL Museum
Hours
Open every day of the year
October 1 to April 30: 8 a.m. to 5:30 p.m.
May 1 to September 30: 8 a.m. to 6 p.m.
Ramadan Month: 9 a.m. to 5 p.m.
Entrance fees
(2016 prices)
Majorelle exotic garden: 70 Dhs (7 €)
Museum of Islamic Art: 30 Dhs (3 €)
Accompanied children under 12: Free
Access
Located at the corner of Yakoub el Mansour, Prince Moulay Abdelah streets in the Guéliz district in the North West of Marrakech.
And now rue Yves Saint Laurent.
The bus stop: Boukar Majorelle.
Location of Majorelle Garden & YSL Museum on Google Map
<iframe src="https://www.google.com/maps/embed?pb=!1m18!1m12!1m3!1d3396.71455665041!2d-8.004606184798527!3d31.641664948308513!2m3!1f0!2f0!3f0!3m2!1i1024!2i768!4f13.1!3m3!1m2!1s0xdafee878b66b78f%3A0x88ccf6c9ced0f11c!2sJardin%20Majorelle!5e0!3m2!1sen!2sma!4v1581592282336!5m2!1sen!2sma" width="600″ height="450″ frameborder="0″ style="border:0;" allowfullscreen=""></iframe>